ATTENTION:  GOOGLE IS PUTTING FEEDBURNER INTO "MAINTENANCE MODE" JULY 2021.  THE INFORMATION IN THIS BLOG POST IS OUTDATED NOW.  PLEASE SEE THE UPDATED BLOG POST FOR MOVING FEEDBURNER TO MAILCHIMP.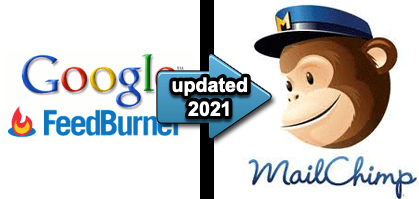 ---
This is Part 3 of a 3 part blog series:  How to Move from Feedburner to Mailchimp: Full Guide
The final part and perhaps the most important is adding the blog signup form to your site.  This is pretty easy but you must consider more than just adding the form.  Think about what the subscription email will look like when asked to confirm.  You can and should brand those emails.  Here is how to complete that whole process in Mailchimp:
STEP 4: Setting up your Subscription Confirmation Emails
After signing into your Mailchimp, Click Lists:

Then click the Settings wheel next to your list then Forms

Next you will land here and make sure you have Signup Form selected for the Forms & Response Emails.  We will start with that one.    Most of the time (for just these blog emails) you don't need anything more than just the email address so delete the First Name and Last Name fields by clicking them and selecting the minus/delete button.  However if you want to use your subscriber list to send future offers or newsletters to  and want to personalize those you can keep the First Name and Last Name fields.  Just keep in mind that potential subscribers may not want to enter that information in so an email field really will get you the most subscribers quicker.

You will get this warning.  Yes we are sure!  Type "DELETE" and then Delete Field button.

Now lets brand this form by using your logo as the image instead of the title text.  You can also add a welcome message to your new subscribers here as well.

After you have uploaded and inserted your logo, select Signup Thank You Page from the Form dropdown.

This is the page subscribers will see after they signup. There are a few options here.  You can take your subscribers to a different page other than this if you want, you can change the message and you can even click "Design It" and change the Color Themes of the page but I usually leave this as is. In fact, web design should speak directly to your audience and this is the way to prove it (learn more from this site).

The next form to look at is the Opt-in Confirmation Email that the subscribers will receive to CONFIRM their subscription.  A very important final step for them.  If they do not click the "Yes subscribe me to this list" button they will not receive your blog emails.  Yes this double Opt-in is a bit annoying but it is a way to keep your list clean with people who really do want to read your blog instead of just random spam emails.  You can change this email if you want but make sure you make that Subscribe button noticeable.

The next is the Confirmation 'Thank You" Page.  You can leave this alone but you could also use this to offer a gift or a free download for signing up – a motivation (that you tell them about) for completing the double opt-in process.

Finally the last form to look at is the Final "Welcome" Email.  For me enough with the forms and emails.  Luckily this one you can uncheck for your subscribers to receive.  They probably have received enough from you for now.

Don't forget to Save & Exit:

STEP 5:  Setup the Signup Form on your Website…finally
Mailchimp will generate a code for your signup form for you to paste into the sidebar or anywhere else on your site.  If you have a WordPress website then you can always download a plugin to do this – plenty of them out there but I find taking the code straight from Mailchimp the easiest method – don't have to mess with/set up any API keys.
Once again select Forms in the settings wheel of your list:

This time you are going to select from the top – For Your Website – Signup Form Embed Code:

There are 3 forms to choose from, but I usually select the top, the Super Slim Form.  If you want to change the title of your form, which I suggest, click the options tab and change the title to something that makes sense – letting your readers know they can sign up to receive blog posts in their email…I like:  "Sign up to receive new blog posts delivered fresh to your inbox".  Click Create Embed code – blue button – to save that title and regenerate the code. Then copy the code and paste to your site – usually the sidebar:

That's it – You are set!  Thanks for reading this 3 part guide.  Feel free to ask me any questions in the comments below and let me know of your successes.  Love to hear if this works better for you than Feedburner.  It sure has for me 😉