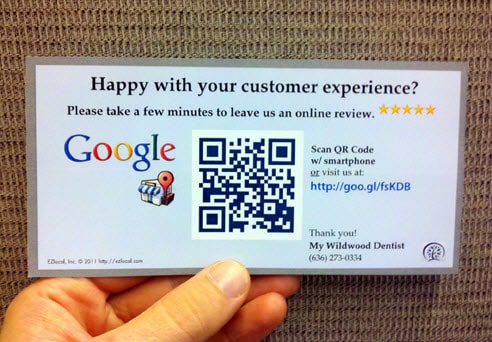 It is no secret that Google is the search engine king.  If your site is #1 in the organic listings you will no doubt attract more calls, more customers and more revenue.  Google, however, doesn't make it easy to reach that coveted spot, but there are steps that can be taken to help your business creep up those search result pages. As a business owner you can work on several aspects of your online presence to reach improved search results.  If you are a local business (either storefront, home based or service) one of the best ways to move higher in search rankings is to encourage reviews on your company's Google plus page.
Have you ever seen these stars below a business listing in Google when looking up a local business?
These stars come from ratings and reviews left by customers.  Leaving a review not only helps potential customers learn about these businesses but it also tells Google that this business is active and popular.  Google rewards businesses with better search rankings if their Google listing is complete and has reviews.  Keep in mind that having MORE reviews than your competitor does not necessarily mean you will outrank them.  Often times Google knows your search location even if viewing by a desktop so it may list the closest business to you rather than the one with the most reviews or best rating.  However, having those ratings/reviews make your business stand out and often times savvy searchers will look at several business listings, read the reviews and then pick up the phone.
So what do you need to do to have a complete listing in Google AND encourage your customers to leave a review?
First of all you need to CLAIM your business listing in Google.  Google might have your business already listed since it scans several directories and databases for information.  Check to see if the information is accurate.  To start the process of claiming click here: https://www.google.com/business/placesforbusiness/ .
OPTIMIZE your listing.  Google likes it when your listing is as complete as possible.  That means load images, list your hours, website URL, list of services and products etc.
VERIFY your listing.  Google will send you a postcard with a verification code which you type into your listing.  This verifies that your business address is accurate and does exist.
Don't worry if you are a service based or home based business, you can still verify without Google publically showing your address.
GET REVIEWS! Ask your customers to leave reviews for your good service.  Businesses have found some pretty creative ways to do this.  Brooks Carpet Cleaning offers a free Pet spot cleaning (a $40 value) if a customer leaves a review on one of the many review sites his business is listed on.  See that offer and review page here.Handing out material like those shown below, will also improve your chances of getting a written review. Consider business cards, flyers, note pads, counter cards, coasters, window clings, door hangers or whatever works best for your situation.
Are you ready to utilize this powerful marketing tool for your business?  If you need assistance claiming & optimizing your Google listing, creating a QR code or producing marketing material to encourage reviews please contact me below.  Simply fill out an online form with your information and your areas of assistance and we take it from there.