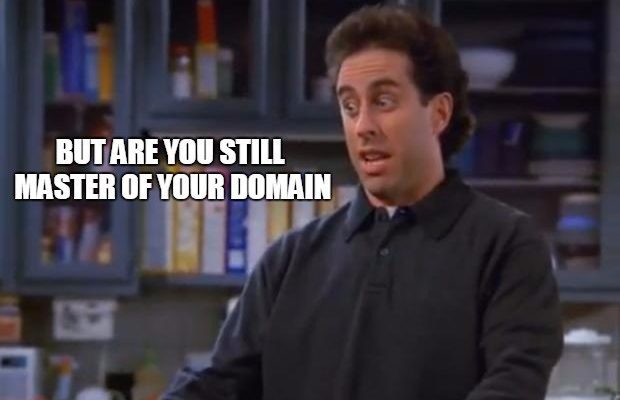 One of the first questions I ask my clients when they are starting a business, is "Do you have a domain name?".  It's really the best place to start when thinking about the name of your business.  One of the best marketing steps you can take is to make sure your business name and primary domain name are consistent with each other – no deviations or abbreviations.  You want to make sure you don't confuse your customers or at the very least don't make them think too hard by trying to guess where to find your website.
For example, if you are thinking about opening a business called Northwest Bike Store, I would suggest searching if northwestbikestore.com is available as a domain. I usually use GoDaddy to search if it is available right on their home page.  I'm a bit surprised this domain IS available. If available, add the .com extension to your cart.  It is always best to use the .com version for your primary website. If you run a nonprofit organization .org is best but you ALSO want to purchase the .com extension of that domain and forward it.  This way your audience will be able to find the .org if typing in .com of your domain.  Really the trick is, don't make it difficult for people to find your site. People are used to .com domain names over everything else so its best to always get .com, even if not your primary website.
Domain names are purchased on a first come/first serve.  Just because someone opens a business and applies for a business license it does not mean that name or domain solely belongs to them.  That is why it is important to find out if your business name is available as a domain before you start your business.  You don't want to get in a sticky situation where you have to change your business name later because the domain name wasn't available.  The last thing you want to do is send people to someone else's website that has a domain just like your business.
Here are some more Dos & Don'ts when purchasing a domain name.
Purchase your primary domain on a .com, ex. northwestbikestore.com  (unless a nonprofit organization, then .org)
Domains are cheap so purchase variations of your domain in .com extenstion, mostly so no one else can purchase and use them. ex. nwbikestore.com, northwestbikeshop.com, northwestbicyclestore.com and have them all forward to your primary domain.
If you are really in a competitive market or industry it will not hurt to also purchase .info, .net & .org of your domain.  Its not necessary, but domains are cheap so might as well claim them too if available.  And no they will not help with SEO (Search Engine Optimization) but it certainly will keep someone else from dominating your space with a similar domain.
Get privacy protection on your domain.  There are a LOT of scammers and ruthless sales companies out there and the minute you purchase your domain all your information (email address, mailing address, name) is PUBLIC, so purchasing the $10/year Privacy Protection is worth not getting those spammy calls and emails.
ALWAYS be the owner of your own domain.  So many times, I have taken on clients who have no idea where their domain is hosted or they do not know their login.  It could be that a previous partner or designer purchased it and it is locked up. If it is your domain and you do not have access to it then it is difficult to nearly impossible to convince the domain companies to give you ownership.  If you don't have complete access to your domain now talk to whoever does and set up an account in GoDaddy to transfer it into your name.  Start an account here and then follow the steps to transfer the domain over to you.
VERY IMPORTANT:  This is the #1 thing you must do when you purchase a domain.  Make sure it is set to auto-renew, even if you purchased a 5-year term!  What inevitably happens is upon renewal you will get a ton of reminders that either get ignored or dropped in spam, you don't see it and your domain expires which means your site and business emails go down.  It has happened many times to me and my clients so I always make sure auto renewal is set to on and I never worry about panic setting in.
Domains are powerful!  They are the key to your business website and emails.  Don't underestimate them because they are cheap.  Follow these tips on purchasing and protecting them and they will be a valuable asset for your business for its lifetime.