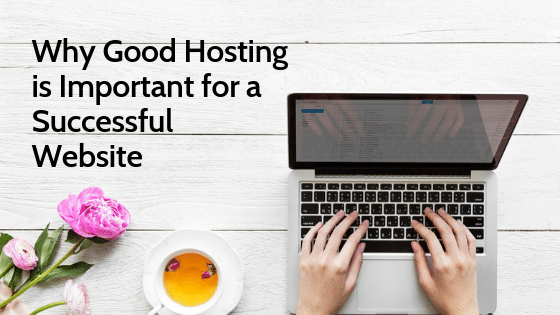 Since starting my web design business in 2001, I have experienced my share of web hosting companies: Bluehost, Dreamhost, GoDaddy, inMotion, A2 Hosting and many more. The first company that hosted my websites is long gone and I cannot even remember the name.  About 10 years ago, I moved my clients' sites to HostGator which had excellent tech support at the time and was considered to be one of the premium hosting companies until they were acquired by the Endurance International Group (EIG), which now runs over 83 hosting companies.  Their service and servers went downhill quickly after that buyout. As my client base grew and I was dealing more and more with hosting issues (malware, slow sites, downtimes, etc), it was time to find a good reliable hosting company.  So in 2014, I took 6 months to research and interview several mid-size hosting companies to find the best one that fit my business goals and client needs.
These are the criteria that I looked for to find a great hosting company and the reasons why good hosting is so important for a website's success.
GREAT TECH SUPPORT

This will always be my #1 criteria for selecting the best hosting.  Why?  Because hosting websites can be complicated sometimes.  There are issues that arise that can be hard to pinpoint and it is important to have a good partner on the hosting side to help determine if the issue is site related or hosting related.  Over the years, after working with several hosting companies, I have learned that the not-so-great tech support often blames the website when there are problems when often times they are hosting issues. Great tech support not only means being available.  24-hour support is great.  A quick response is even better.  However, the BEST support is when the person helping you really knows how to solve the problem and quickly.  Having a hosting partner you can rely on saves time and headaches.

SPEED

Once Hostgator was bought out by EIG, the speed of my sites hosted with them really slowed down.  I had my suspicions that they were stuffing as many shared sites as they could onto their servers so they could make the most profit.  These sites all share the same server resources and that can be an issue if there are other sites hogging server memory & space and therefore slowing down your site.  Many hosting companies list SPEED as one of their web hosting features but that is not always the case and the only way to truly know is testing your site while hosted with them.  I saw a huge difference in speed when I moved my sites away from Hostgator to my current web hosting company. In fact, most of the sites I host now load in 3 seconds or less (Pingdom is my favorite speed testing tool.)

But why is a fast website so important?  Consumers have become impatient in this fast-paced world and will move on to another site if your site is too slow to load. In fact, 40% of people abandon a website that takes more than 3 seconds to load (see more web speed stats).  Google knows that people are looking for fast loading sites and will punish a slow site by ranking it lower in their search results.  Google has admitted that the speed of a website is one of its important ranking factors.

CONTROL

The ability to have access to some key hosting settings is important.  Some hosting companies don't allow you to increase the memory and file upload sizes on your own. Some hosting companies block certain plugins.  You need to contact them and get their permission.  Being able to access the hosting control panel to set up your website for success is important and time-saving.  This is why I like finding a hosting company that allows its users the ability to control these settings but also set clear and reasonable limits for shared resources.

FREE SSL CERTIFICATES

An SSL provides a secure connection between the web server and the browser. Read more about what an SSL is and does.  A few years ago this padlock was only necessary for sites with an e-commerce store or collecting sensitive information collected through a form.  However, in 2014, Google announced that having a secure site with SSL will now be one of its key ranking factors.  Since that announcement, more and more hosting companies have offered free SSL certificates and easy installation.  However, there are still several hosting companies that still charge their customers for SSLs even up to $140 per site.  The hosting company I use for my clients offers SSLs through Let's Encrypt for free and the installation is an easy one-click option in the control panel. I include a free site SSL and installation in all my hosting packages.

BACKUP AND SECURITY

No web hosting company is free from malware and server issues.  I learned this first hand in September 2018 when my trusted hosting company had their servers go down because of human error and their backups were not working as planned.  Eventually, all sites came back up from a second backup. I preface this section by stating, MAKE SURE YOU HAVE YOUR OWN WEBSITE BACKUP.  Even the big guys such as Amazon and Google will lose service and it is always wise to have a copy of your site in your own hands.  I offer this through my Website Care Plan by backing sites up daily and providing the site owners with a fresh weekly copy of their backups.  However, it is good to know if your hosting company provides you backups, and you know where to find them and how to restore them.

It is also good to understand what your hosting company's security policy is for their accounts.  I have had bad experiences with some hosting companies where they do not suspend an account on the same server for sending spam or being hacked and then all sites using that same IP address on the server are punished by Google or Internet Server Providers.  The current company I use for hosting will suspend a compromised site, making it only usable via password, until the site is cleaned and all issues are resolved. Because of this, the site does not affect it's site neighbors on the same server.  This is a much better way of handling infected websites.
These are the top 5 features I look for in good web hosting.  Did you notice I did not mention cost?  In web hosting, you don't want to scrimp on features and security because of a low cost. Doing so could mean the loss of business and traffic to your website.  You want a hosting partner that cares about the well being of THEIR customers and the sites on their servers.  That is why after many interviews and research I hired MDD Hosting to host all my accounts.  This is not a well-known company to most every day users but after reading their fantastic reviews in independent hosting forums and from their users as well as asking their tech support team many many questions, I selected them to host my websites in Oct 2014. I was super impressed and still am.  Their support staff is knowledgeable, quick and professional and I feel that my clients' sites are in good hands.
Finding a good hosting partner is the very first important step for a successful website.