ATTENTION:  Google is putting Feedburner into "maintenance mode" July 2021.  The information in this blog post is outdated now.  Please see the updated blog post for moving Feedburner to Mailchimp.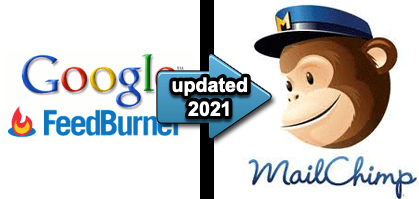 ---
Recently I have been moving some of my clients over from Feedburner to Mailchimp to send out blog posts to subscribers through email.  That's right Mailchimp is not only an Email Newsletter Manager but it also provides many services such as RSS Feeds to Email.  Before I tell you how to do this transition, lets review the reasons why this may be a good move for you:
Why move your Blog Subscriber list from Feedburner to Mailchimp?
Easily manage your subscriber list and use for other purposes such as sending out newsletters or announcements…not just your blog posts
Customize Customize Customize!  Isn't it frustrating that you have very little control of how those blog emails look from Feedburner?  What if you wanted to add your latest product to the email footer?  Can't do that in Feedburner but you can in Mailchimp!
Better scheduling:  You can send emails daily, weekly or even monthly in Mailchimp.  Feedburner only has the daily option.
Automatic video image embed.  This is a cool new feature that Mailchimp recently rolled out:  Say you have a video post that brings in a YouTube or Vimeo video.  Mailchimp automatically reconizes this (if you check the box – see part 2 of this guide), takes a snapshot of your video and embeds the image with video link in your email – automagically!!  Feedburner can't do that.
Convinced?  Here is how. (This is a tutorial series consisting of 3 posts: Exporting/Importing your subscribers, setting up your new Rss Feed to Email campaign in Mailchimp, and connecting your site to Mailchimp for new subscibers)
Now the good folks at Mailchimp write a pretty thorough blog post on how to start the transition but they did leave out a few features that I would like to show you + a key step…how to turn OFF your feedburner email so subscribers do not receive your posts twice in their inbox.
STEP 1: Export your subscriber list from Feedburner
You are not alone in thinking that Feedburner makes it very tricky to find your subscribers
Sign into Feedburner and from the Dashboard click on See more about your subscribers link:

Scroll down and click on the arrow next to Feedburner Email Subscribtions and click on "Manage Your Email Subscriber List"

Make sure you are in the submenu item "Subscription Management" under Email Subscriptions in the sidebar

Scroll down and under View Subscriber Details click on the Export CSV.  This will grab ALL the email addresses in your subscriber list, even the Unverified addresses.

Then while you are in Feedburner, you may want to Deactivate the RSS to Email service so you don't send an email to your subscribers both through Feedburner and Mailchimp.  To do this all you have to do is scroll down on the same page where you exported the CSV and click Deactivate and you should receive the following message:


STEP 2: Import your list into Feedburner
Now that you have your subscriber list in a CSV format you can start the process of moving the addresses over to Mailchimp.
First you want to open up the CSV file and edit a couple things: Remove the first row/header & delete the last column titled "Status".  Your will not need that, unless for some reason you want it.
Then open your Mailchimp account and start a new list:


Then fill out all the required fields in setting up your list.  Make sure when you fill out the List Name that you make it understandable to your new subscribers as they will see this list name when signing up to receive your posts via email.  This is how I set up mine:

Then after you save, click the settings wheel to the right of your list and select Import under Subscribers:

Then Import from File

Click Browse to locate your file

Then Import List button

When you do that it will list out the 2 columns.  The first one is obvious to the monkeys at MailChimp that they are email addresses but the second column is the date and time your subscribers signed up which is valuable information.  Therefore click Name This Column and select "Opt-in Time" under Advanced.

You are done with moving your subscribers over from Feedburner to Mailchimp.  The next blog post (Part 2) reviews the steps on how to set up your new RSS Feed Campaign in Mailchimp.
PART 2: Setting up your New RSS Feed to Email Campaign in Mailchimp >>