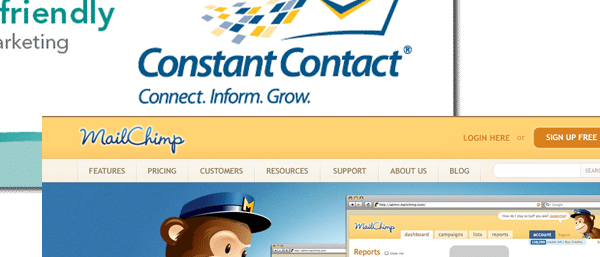 Gone are the days that sending bulk email from Outlook is common practice.  If you are a small business and sending frequent email updates to a growing email list it is best that you set up an account through one of the many email marketing services out there; such as, Constant Contact, MailChimp, iContact, Emma to name a few.
Designing good emails takes some practice and over the past couple years email creation has been a key part of my business and something that has kept me very busy.  Surprisingly, coding emails is very different from web design.  Email programs such as Gmail, Yahoo, Hotmail and especially Outlook can all render an email differently.  Not only that, email coding is a bit "old school" and precise.  Archaic (in a technological timeline) methods such as utilizing embedded tables are best when creating emails and the coding must be precise because email programs are not as forgiving with mistakes as web browsers are.
But why all the tech talk you ask?  Why should you care?  You just want to send a nice looking email and not worry about coding it.  I tell you this because knowing WHY you need to go through an email marketing service is important for many reasons.
Using a pre-designed template
Most of these email services have  a large library of pre-designed email templates to choose from.  Some are better than others but with such a large selection there is no doubt that you will find one that is suitable for your business or message.  This not only saves you time in designing an email but most importantly you can feel confident these emails will work across all email clients or programs (Hotmail, Gmail, Yahoo, Outlook, etc).  The trickiest part about designing an email is making sure it works across all these platforms and the provided templates are tested and solid!
Customize the selected template
Just because you select a template doesn't mean you have to settle for the default color, fonts and images.  These email marketing services provide you with a template editor where you can change the style to fit your business.  The layout may look the same but you should always take it up a notch and match your look.  Mailchimp even has a button in its template editor where it can fetch the colors off your website and match them in your email template ~pretty cool!
List Management
One of the best reasons to use these email services is that they manage your email list automatically.  In other words, if a reader wants to opt out of your newsletter, they click a link in your email and they are automatically removed.  You do not have to do anything.  Also there are easy integrative features with these systems where you can place a signup form on your website or on your Facebook page where readers can easily sign up for your newsletters. These opt-in forms manage these new users automatically as well.
Following the rules
The CAN-SPAM Act of 2003 set the first national standards for sending of commercial emails (click the link to find out what CAN-SPAM really stands for – interesting).  Some of the standards include providing a place where readers can opt-out of receiving future emails and requiring the sender's address in the email (usually at the bottom and can be a PO Box).  Email marketing services make sure you are following these standards by adding these items automatically. Get the clicks offers useful tools on it. They also stay on top of the latest laws and restrictions within the email legal landscape which means you don't have to.
Email Address Reputation
Email spamming has been around ever since the birth of emails.  As you know, these spammers find clever ways to get through all the filters and protections that Email & Internet Service Providers put in place and at times the good email senders, like the majority of us, will get caught in one of those spam nets and our emails will be rejected.  This can happen quite easily when sending bulk emails without using one of these reputable email services.  If you repeatedly send bulk emails directly from your Yahoo, Gmail accounts or even through Outlook, then you could have your email address shut down by that email provider or by your own Internet Service Provider for what looks like spammy practices.  Email service providers such as Constant Contact and MailChimp are trusted within the email community and they keep a good eye on their account holders to make sure there is no funny business going on.
Statistics
It's no fun sending emails without knowing if anyone opened them.  Just like with your website, studying your email statistics is a crucial part of marketing your business.  Through these analytics you can find out which emails were read, what subject lines work best, and how many links have been clicked within your email.  Finding out this information and adjusting & tweaking emails based on these results helps you become a better email marketer by sending effective & valuable emails.  All these email services have great statistics built into their systems.  Have you checked your Gmail, Hotmail and Outlook email stats?  Oh wait, there are none.
It's Free
What better reason is there than this last one?  Most of the Email Service Providers out there offer free trials and the cost is minimal after that.  My favorite email provider is MailChimp because they allow you to have a free account forever if you have under 2000 email addresses and send less than 12,000 emails a month. Truthfully if you have a larger email list than this and are sending more than 12,000 emails a month you must be growing a pretty decent business and can afford the $30/month for the next level.  Constant Contact is fairly popular but does charge $15/month after the 60 day free trial period even for a small email list.
I hope these reasons convince you to start a free account with one of these email marketing services.  One of my passions is guiding small businesses through the gunk of technobabble, so if you feel the FEAR of starting an account with one of these services, please contact me. I can get you started, set you up with a template that is customized for your business, train you on how to use the email template editor and be there for questions after that.  Please fill out my contact form or email me at amgill@cascadevalleydesigns.com if you need some help.  I'm here for you!