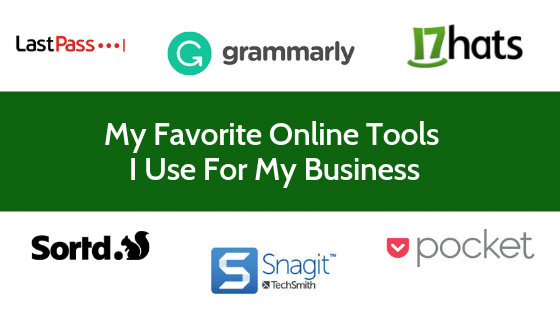 I must admit, I spend way too much time trying out new online products for my business.  It's fun to dabble and test.  However, when I find a system that is built well, is easy to use and is the perfect fit for my business, I will stick with it.  There are many tools I use for web design which I will share in a different post but these are my favorite online tools that I use for my business nearly every day.
Snagit
Screen and video capture software

I seriously use this tool daily.  Since I provide a lot of training, I need an easy way to take a screenshot or make a video tutorial and send to my clients seamlessly.   Snagit does it all.  Not only can I take a screenshot, but I can add graphics to the image right away, such as arrows, circles, even numbers for steps.  My favorite feature is the video capture.  Snagit is what I use to make all my video tutorials, capturing the screen as I am editing a page while recording my audio explaining the steps.  When the video is finished, there is a button to upload the video to youtube or any other video sharing channel.
COST: Try the Free Trial.  Then the cost is $49.95.  So worth it!
LINK: https://www.techsmith.com/screen-capture.html
LastPass
Remembers all your passwords, so you don't have to.

I really couldn't live without this service.  There is no way I could remember all the passwords I have nor would I want to.  If you are a client of mine who has pulled out your notepad of written passwords in front of me, you have heard me recommend Last Pass.  This is a lifesaver! All you need to do is download this program onto your computer, set a strong password that you will remember (this is the only one you need to remember) and LastPass starts to work.  It will remember the credentials you use for every login site and even fill it in automatically.  My favorite feature is for a low cost you can download the app on all devices and log into your account to save and use the passwords across them all.  You can even share login credentials securely through LastPass with another user.
COST: Free to download on one device, then $36/year to download and share across several devices
LINK: https://www.techsmith.com/screen-capture.html
Pocket
Save content from everywhere.
How do you save your favorite websites?  With the old fashion default bookmark tool? I did that too until I discovered Pocket.  This is an extension you add to your browser and then when on the site/page you want to save you click the Pocket icon tool and it saves to your getpocket.com account.  You can tag the site with certain keywords, but you don't have to.  The search on the Pocket interface is very good. The best part of this tool is the beautiful grid layout with images.  It really helps to visually see all your favorite websites in a snapshot.
COST: Free.  There is an ad-free version for $45, but I have never been really bothered by the ads.
LINK: https://getpocket.com/
17hats
Automizes Business Systems


I had been looking for an all-encompassing tool like 17hats for a long time.  One that could handle my quotes, contracts and invoices as well as track my leads, send questionnaires and connect to my calendar. This system does it all and more and it is constantly improving.  By using 17hats, I feel like I have a team of helpers doing my business tasks for me – reminding my clients of payments, creating email templates and tracking my financials.  This tool isn't for every type of business, but for my small company, it works well.
COST: 10% off using my affiliate link below. $295/year
LINK: https://www.17hats.com/card/pbdxpdxtgr
Sortd
Organize Emails into Customized Lists
This is a Gmail tool I have recently been introduced to by a fellow web designer friend of mine, WebCami. Although I have yet to dive into it fully, I really like it so far.  I receive A LOT of emails daily: requests from current clients, important notifications from hosting and web care plans, and questions from prospective clients which are all equally important.  I needed some way to keep my emails more organized because once those emails fall below the fold they get lost. With Sortd, I can create customized lists like "This Week", "Waiting for Reply", "Follow Up", " To Be Invoiced", "Sent to Stephanie", then drag emails into them and set due dates.  It's pretty slick. I live in my email so this really helps me get organized so I can be the most productive with my day.  This is only for Gmail emails for now.
COST: FREE to try. Then $6/month.
LINK: https://www.sortd.com/
Grammarly
Free Online Writing Assistance
I almost forgot this one.  It is so ingrained into my everyday use that I nearly forgot it was there.  There is nothing worse than sending a professional email or publishing a post with spelling and grammatical errors. It's embarrassing.  Thank goodness for my friend, Grammarly.  This spelling and grammar assistant helps underline in red when I have a word spelled wrong or if I am writing mixed up sentences.  No matter if I am in email or a web page Grammarly points out my mistakes before I save or send.  I am seeing the red lines in this blog post right now.  This is really a fantastic FREE tool that everyone should install.
COST: Free
LINK: https://www.grammarly.com/
Let me know if you try any of these tools, have questions about them or want to share any of your favorite online business tools.