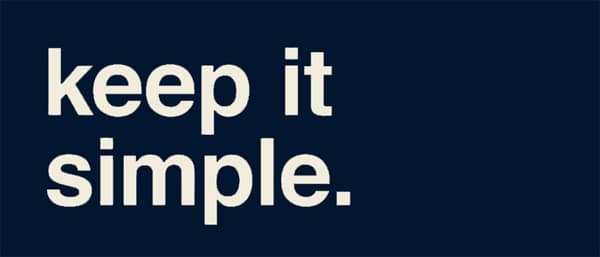 From the words of the admired man who revolutionized the gadgets we use every day, Steve Jobs even admitted designing with simplicity is not an easy task:
[quote_box author="Steve Jobs" profession=""]
Look at the design of a lot of consumer products — they're really complicated surfaces. We tried to make something much more holistic and simple. When you first start off trying to solve a problem, the first solutions you come up with are very complex, and most people stop there. But if you keep going, and live with the problem and peel more layers of the onion off, you can often times arrive at some very elegant and simple solutions. Most people just don't put in the time or energy to get there. We believe that customers are smart, and want objects which are well thought through.
from MSNBC and Newsweek interview, Oct. 14, 2006
[/quote_box]
I couldn't agree more about designing websites.  It is so easy to feel overwhelmed by the choices of options to place on a site, especially on the home page.  The amount of information you want the visitor to see right away, all the great colors and fonts that you want to utilize to make your site stand out can be very exciting.  However if thrown on the page without any thought or analysis of the  first time visitor's perspective a busy site can be detrimental and turn people away. If you are having a hard time with your website hire Fusion Vegas website developers.
Recently I read a fabulous article in the web commentary section of one of my favorite publications, Website Magazine, by Linc Wonham, the Senior Editor.  The title was "Simple Is as Simple Does" and starts off by pointing out that the beloved Forest Gump was an uncomplicated man with a simplified view on life.  Eventually it brought him happiness, fortune and fame.  Designers and developers in the web community are starting to take hold of this idea that simplicity works and can be fruitful. " Simple designs, simple colors schemes, simple typography, simple verbiage, simple navigation and simple calls to action are what work best in 2012 and beyond. But why did it take us so long to figure out?"
The truth is that it is human nature to overcomplicated things and there is evidence of this all over the web.  With the daily influx of information  & new technologies its no wonder we may feel overwhelmed and feel we must share all that we know and the resources we have found.  However when it comes to the message and look of a website, "the most successful sites going forward will be the ones that focus on functionality and usability rather than shock and awe."
Linc Wonham provides these three guidelines for keeping web design simple:
View all designs from the user's perspective:
Hours of brainstorming sessions and creative presentations can lead a team to forget whom they are building a site for.  The users come first and always will.
Be a team player (and be open to criticism)
Whether it is a CEO of a large corporation or the designer of a small business website, nobody has an easy time accepting criticism.  But if your ideas or designs are generating more negative feedback than rave reviews, it's time to take a step back and start listening.  Show your site to friends and family that you trust will give their honest opinion.  Listen to their reactions of viewing and using your site for the first time.
Be consistent, but not boring
One of the biggest mistakes brands make on the Web today is failing to remain consistent in their designs.  Oftentimes, sites are constructed and added to piece by piece and, in an effort to stay ahead of the latest trends, that consistency can be lost – hurting their brand.  In no way does maintaining a similar look and feel with regards to graphics, colors and fonts limit oneself to repetition and even blandness, but instead it helps reinforce a brand's or company's image.
It is difficult to peel back the layers and focus on the simple, but in the long run the time and effort placed into keeping your site design uncomplicated will invite visitors to stay longer, read more, follow your call to action and make your site successful.
Do you have any favorite sites that have a simple design and are easy to use? One of my favorites has always been Netflix.  I feel they share a great deal of information in a easy to use  layout and don't alter things up so much  that a visitor can get confused after a change (ahem, Facebook).